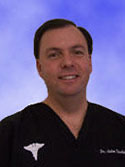 Brilliant Smiles
Northeast Philadelphia, Pennsylvania
Dr. John Cacchio was born and raised in the Torresdale section of Northeast Philadelphia. The office is actually right next door to the house where he grew up. He attended Nazareth Academy Grade School, Holy Ghost Prep, Temple University, and Temple University School Of Dentistry.
Dr. Cacchio's family is the focus of his life. If he is not in the office, he is usually spending time with his wife Alison and children John Jr., Andrew, and Caroline. He also enjoys fishing, golf, and spending time with his family in Ocean City, Maryland.
Professionally, Dr. Cacchio is a member of the American Dental Association, the Pennsylvania Dental Association, The Philadelphia County Dental Society, and regularly participates in continuing education courses to constantly expand his knowledge and skill in dentistry.